Lava Channels on a Volcano
At first glance, the channels snaking across this false-color THEMIS image look carved by water. But the channels lie on the slopes of Ascraeus Mons, a gigantic volcano, and scientists are looking more to lava flows for a source than to water.
Ascraeus lies in Tharsis, the most volcanic part of Mars. The volcano's summit lies out of the frame at bottom, and its flank runs downhill toward the top of the picture. The image spans 18 km (11 miles) wide by 66 km (41 miles) high.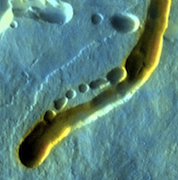 Piping Hot Rocks
A close look at the ground reveals many small lava flows following the same trend as the channels. Ascraeus is a shield volcano, built like the Hawaiian islands from countless thin sheets of runny lava.
Such lava flows are fed by natural pipes or tubes that develop within the flows. These conduct lava from its source to the spreading flow fronts.
In places, however, a lava tube's roof may fall in, opening a pit. Where a longer section of roof collapses, the pit becomes an oval. If the flow in the tube erodes the roof sufficiently, many pits and ovals will merge to form an open channel.
Cold Dust
This false-color THEMIS image also tells about the volcano's surface material. It combines a view at visible wavelengths with nighttime temperatures shown in color. Bluish tints indicate colder ground, while redder ones point to warmer areas.
At night on Mars, fine-grain materials such as dust give up heat easily and turn cold. Rocky ground, however, remains warm because it does a better job of holding onto daytime heat from the Sun. (While Ascraeus is young in geologic terms, its lava flows have been cold, hard rock for ages.)
Here the colors show a broad, dust-covered surface (blue), cut by channels whose sides contain a mix of rocks and dust (yellow). Only in a few places can we see exposures of rock (reddish orange) poking through.