Target Zone: Nilosyrtis?
Syrtis Major is a large dark region on Mars visible from Earth even in small telescopes. Its darkness comes from lava flows blown free of dust, for Syrtis is a gigantic, windswept volcano. Rising only slightly above its surroundings, Syrtis spans more than 1,300 kilometers (800 miles) wide.
Just north of Syrtis, the Martian highlands end in a region called Nilosyrtis. Here the highlands break up into isolated peaks and mesas in a transition zone scientists call the crustal dichotomy. This is a relatively abrupt change in elevation - a drop averaging 5,500 meters (18,000 feet) - that encircles the planet, marking a boundary between the highlands to the south and the vast lowlands that cap the northern half of Mars.
These scene here shows part of the edge where the highlands are disappearing. On the left is a large, ruined crater about 90 km (55 mi) wide and roughly 3,000 m (10,000 ft) deep. Layers of sedimentary deposits fill its floor and line the channels between the hills and mesas that extend downward toward the east (right) into the lowlands.
MSL's mission is to find deposits that will tell scientists if Mars has ever been a home for microbial life. The Nilosyrtis site caught scientists' interest because in places its sedimentary layers contain water-altered clay minerals called phyllosilicates. These may preserve traces of ancient life.
In essence, areas covered with dust, sand, and fine grain particles appear in tones of blues and greens. Harder sediments and outcrops of rock, however, show in shades of yellow, orange, and red.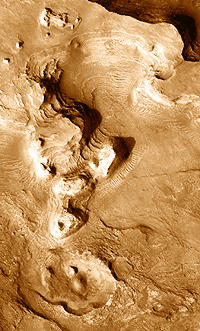 Long Mesa
Rocks and deposits from a high mesa near the MSL landing site have collected in a jumble at the foot of the mesa's slopes.
NASA/JPL/University of Arizona
Download Original
History Book
Blocks of sediments within the crater testify to bygone eras when the crater may have been held a lake. Thin, blade-like ridges show where harder minerals collected in cracks and faults and then emerged as softer surrounding sediments wasted away.
NASA/JPL/Arizona State University
Download Original