An Ancient Lake in Melas Chasma?
But where should MSL go?
While not chosen for MSL, this site still offers scientific attractions to keep it on lists of potential landing sites for future rover spacecraft.
The big image above shows the western Melas landing site, which tucks into a small basin below the south rim of Valles Marineris. While the basin is more than 5,000 m (16,000 ft) lower than the south rim, it still stands 1,200 m (4,000 ft) above the floor of Valles Marineris. Geologists describe such a feature as a "perched basin."
According to research by Catherine Weitz (Planetary Science Institute), Cathy Quantin (National Air & Space Museum), and others, the basin likely contains deposits left when it was once filled with a lake. Even long after the lake waters drained away or dried up, such sediments could preserve evidence of former microbial activity, if it existed.
The false colors hint at the nature of the ground surface. Rusty tones show where rocks and hard deposits abound, while greens and blues indicate the areas where gravel, fine sand, and dust particles predominate.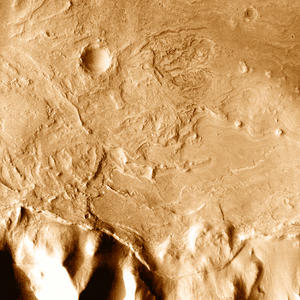 HIGH WATER MARK
Seen close up, the debris fan at the west end of the closed basin shows a complex history of deposition and erosion. Beach sediments may lie where the basin meets the southern wall of Melas (bottom). Such deposits could preserve traces of former microbial life - if Mars had any. Click on the image to download a 834KB high-resolution version.
NASA/JPL/Arizona State University
Download Original